Nutrition
Every broth you can make out of shrimps
A guide of all the broths you can make out of prawns, step by step and with a complete list of ingredients.
The flavour of crustaceans' heads is so strong that a handful is enough to prepare soups, creams, and a tasty sauce. Find out how.
For some reason, to suck on shrimp's heads has long been considered a coarseness, a lack of table manners. Ignorants. Crustaceans' heads are tasty for a reason, they hold the essence of each animal, the flavor concentrate that defines it and permeates everything cooked with them. With the heads of half a kilo of shrimp, you can prepare the base of a fish fumet that you can later season y turn into a comforting winter soup or a delicious tomato soup for bread dipping. It's a simple process, with very few ingredients and endless possibilities.
If you want to make the most out of your shrimps, go for the heads (and if you are not going to use them, go also for the legs and shells). When separating them, watch out for the inside juice: that´s the ambrosia you need to get started. From there, we give you a simple sure-fire way to boost their flavour and create simple fumets you can later adapt to taste.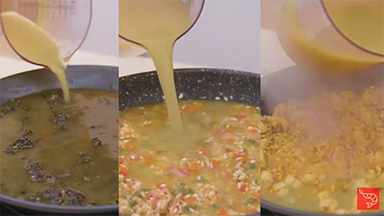 Simple Shrimp Fumet
Ingredients:
-Half a kilo of shrimp heads
-A tablespoon of olive oil
-Two garlics
-A quarter of an onion
-Half a leek
-Fresh parsley
-A glass of cognac
STEP 1: Cook the shrimp heads in a medium pot on low heat. Once they start getting fried, you can squash the heads to get the juice out (be careful, the juice can splatter).
STEP 2: When the shells start crushing, add the garlic for flavor.
STEP 3: Once the garlic is browned, you can add the diced onion, the leek and mix it all together.
STEP 4: Leave the vegetables to stew and add the cognac. Turn up the heat and turn off the extractor hood (this is fundamental if you want to avoid making a mess). After that, you can flambé with a lighter.
STEP 5: When the flame has extinguished, add a liter of water, a pinch of salt, white pepper, and boil it all together for around 20 minutes on medium heat. While you are doing it, make sure to remove any extra skim (a strainer can easily do the job).
STEP 6: Once it's all boiled, remove the pot from the fire, add the fresh parsley and cover the pot and allow it to infuse and cool down.
STEP 7: Allow the mix to set for a few hours and then strain the broth. Your fumet base is now ready to freeze or use as a starting point for another recipe.
Simple Prawn Fumet
Ingredients:
-Half a kilo of prawn heads
-A tablespoon of olive oil
-Two garlics
-Half a leek
-A celery stick
-A carrot
-Dried laurel
-A glass of chamomile
Follow the same steps from the Shrimp Fumet, but add the celery and carrot together with the onion and leek (step 3). The scented Sherry Wine can replace the more violent cognac, and the laurel can replace the parsley during the infusion.
Paella fumet
Extra ingredients:
-Spicy red pepper
-Tomatoes
-Saffron
From the simple shrimp fumet, on step 2 add a dried spicy red pepper (previously kept underwater for a few hours) or, if you prefer it, a tablespoon of spicy red pepper powder.
On step 5, after the flambé, add two tablespoons of tomato sauce or two fresh tomatoes cut in half.
Add the saffron on step 6, after lightly toasting it inside tin foil paper for less than a minute (that will accentuate the scent).
Fumet for a stew
Extra ingredients:
-Star Anise
-A glass of Ricard
-A glass of dry vermouth
A frenchified, slightly more expensive take on the simple shrimp fumet, that adds an anise-like and licorice scents. This version works wonders with a rockfish stew.
Christmas Fumet
Take the Paella fumet recipe and replace the prawn heads with three or four red prawn heads. It might seem a bit too much, but the tasty juice will definitely make it worthwhile. Since you are guaranteed to end up with more juice than you need, you can use the remaining juice for a rich shrimp cream during a Christmas dinner or for a New Year's rice with seafood.
All these recipes have the best results when you add the shrimp heads and shells to the mixture. However, the best part about crustaceans is that you do not need any added ingredients to make a great broth. Just try and see.